How to activate Windows Server without product key
As you know, Windows Server is a specialized operating system which is designed for servers. In today's post, I will show you how to activate Windows in your VPS or dedicated server for FREE using KMS client product key. Although the KMS license is valid for 180 days only but there is no limit on the number of activation. So you can renew it whenever you want. Actually, the license will be renewed automatically every 7 days by default (almost similar to Let's Encrypt certificate). In this way, just do it one time and forget it completely.
Note: If you are a student, an office worker or any standard user who is using desktop edition of Windows, just skip this post and please do not follow the instructions. I will not be responsible for any damage caused by you.
Supported products:
– Windows Server, version 1809, 1803, 1709
– Windows Server 2019/2016
– Windows Server 2008/2012 (R2)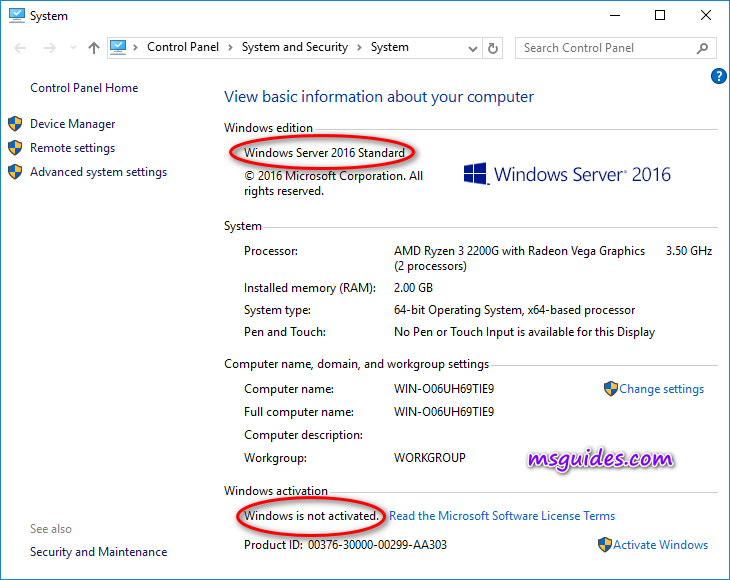 As you can see in the image above, I am using Windows Server 2016 Standard and it is not activated.
Method 1: Manually installing KMS client key and activating it.
Step 1. Get the right product key from the official article of Microsoft.
The KMS Client Setup Key of WS 2016 Standard is "WC2BQ-8NRM3-FDDYY-2BFGV-KHKQY". I will use it in the next step.
Step 2. Install the key on your server.
To open command prompt, right-click on the Windows button then select "Command prompt (Admin)" line.
Then, enter "slmgr /ipk CLIENTKEY" in the command window.
Note: each command is followed by hitting Enter.
Step 3. Set the KMS server.
Enter "slmgr /skms kms8.msguides.com" in the window.
Step 4. Activate the KMS client key.
Finally, use the command "/ato" to activate your Windows.
Method 2: Using a pre-written batch file.
Step 1. Copy all the text below into a text file.
You click here to copy this code
Step 2. You choose "Save As" to save it as a batch file , name "1click.cmd"save it as a batch file , name "1click.cmd"
Step 3 : You run the batch file as administrator
Done
Finally, check activation status of your server again.
Tag : How to activate Windows Server without product key, windows server 2012 r2 product key, windows server 2016 product key, windows server 2003 product key
Read more :
Facebook Comments